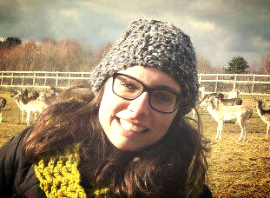 Ally
I'm Ally Vitale. I'm from Fort Lauderdale, Florida. I graduated from the University of Florida in 2013 with degrees in Psychology and Spanish.
After spending an abroad semester in Seville, Spain, I returned after graduation to Vigo, Spain, where I was an English Language and Culture Assistant at a primary school. I am now attending the University of Roehampton to pursue a Master of Arts in Specialised and Audiovisual Translation.
I'll be around to help keep things organised and running smoothly. Feel free to drop me an e-mail with any questions/comments on hola@spanishhouselondon.com or visit me at the Spanish conversation evenings so that we can discuss our Spanish language learning journeys together!