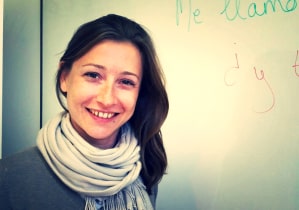 I'm from Buenos Aires. I obtained my Certificate in Teaching Spanish to adults in 2008 and my Diploma in Teaching Children and Teenagers in 2009. Since then I've gained experience teaching Spanish in Sydney, Buenos Aires and Dresden (Germany).
I believe that learning about Spanish and Latin American cultures is as important as taking in the language itself. That is why I use real materials for my lessons (newspapers, excerpts of books and films, songs, etc) so my students experience a true cultural journey. I also think that learning a language shouldn't be boring or unpleasant but an enriching and fun activity.
My many teaching experiences have taught me to understand the different needs of students adapting to their pace and making them feel comfortable and relaxed during lessons. My favourite part of teaching is creating fun and laughter, making the lesson a fun social activity rather than a chore. What I like most about being a teacher is the satisfaction of seeing my students progress.