A unique way of learning Spanish whilst discovering Art
Studies have shown that visitors to art galleries spend an average of 8 seconds in front of each work of art.
In our Take a Closer Look sessions, we aim to pause and look in detail at only one or two paintings.
Prompted by questions in Spanish, you will analyse, inspect, dissect, and mindfully engage with the work.
Using our inherent powers of observation, we will look hawked-eyed for things that normally go unnoticed, such as composition, size and scale, colour, light, space, placement within the gallery, etc
You will become familiar with vocabulary to articulate what you see. Not only will you learn about artists and history, but you will also deepen your ability to perceive, and you will gain confidence describing and talking about art in Spanish.
Saturday 10th December at 11am
Apsley House & The Spanish Royal Collection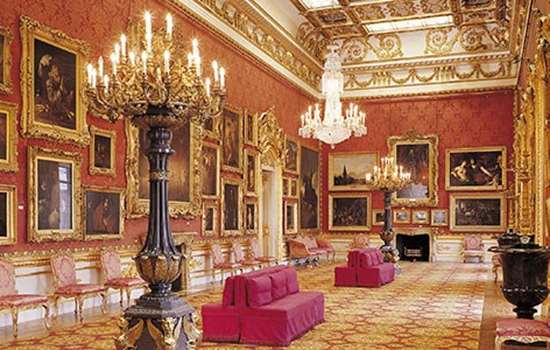 Did you know that 82 paintings from the Spanish Royal Collection are housed in a sleepy and hidden mansion in the very centre of London?
In this visit to English Heritage
Apsley
House
, we will find out some turbulent stories of Spain's 19th century and how the Spanish Royal Collection paintings ended up in London.
Not only will we enjoy seven extraordinary paintings by Spanish painters Diego Velazquez, Jose Ribera and Francisco de Goya, but also several masterpieces by Brueghel, Titian, Caravaggio, Van Dyck, and Rubens. Just the beautiful Regency style
house
itself is already worth the visit.
Saturday 28th January at 11am
Workshop on Pedro Almodovar's Film "Volver"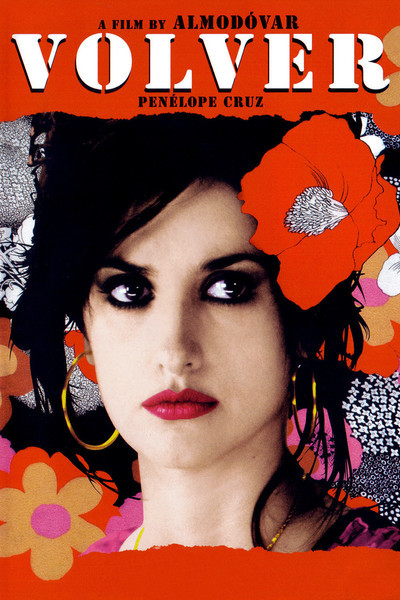 Join us to discover Spain's iconic film director, Pedro Almodovar, and his quintessential work: "Volver".
Through interactive activities, we will discuss and analyse Almodovar's film in depth, delving into its characters, the filmographic techniques, crucial themes and topics, social and historical context, and characteristic vocabulary and expressions.
Interaction among students is at the heart of this workshop, so you will not only dissect the film in depth, but will also be encouraged to share your own opinions. It is recommended that you watch the film at home prior to attending this workshop.
Saturday 4th February at 5pm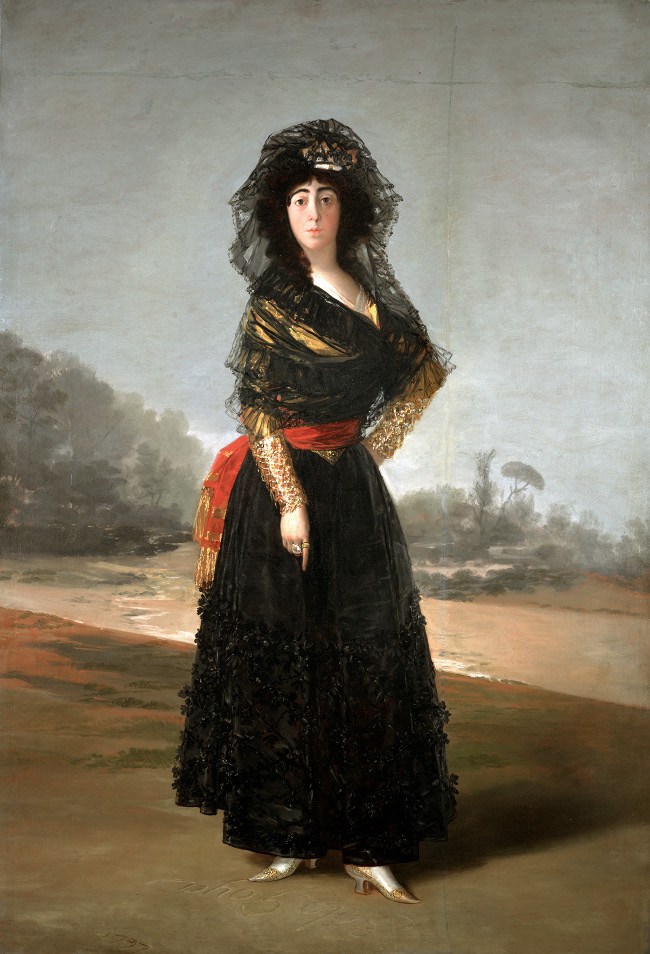 On the occasion of the Royal Academy exhibition "Spain and the Hispanic World", we have created an interactive workshop to discover the artworks of the New York based Hispanic Society, the most extensive collection of Spanish art outside of Spain.
This is a fantastic opportunity to learn about the rich story of Spanish and Hispanic art and culture from antiquity to the 20th century, as a complement to your visit of the Royal Academy exhibition.
Working in small groups, with discussion-based exercises, we will trace the cultural and religious influences that shaped Spanish culture, from Celtic, Islamic, Jewish and Christian, to American, African, and Asian.
We will explore the art and culture of the Hispanic world: not only the masterpieces by Spanish painters Velázquez, Goya, Zurbarán, el Greco, and Sorolla, but also sculptures, silk textiles, ceramics, silverwork, jewellery, maps, drawings, manuscripts, and stunning decorative lacquerware from Latin America.
Participation will be at the heart of the workshop, so it will be a fantastic opportunity to develop your ability to express your ideas in Spanish.
Saturday 18th February at 3pm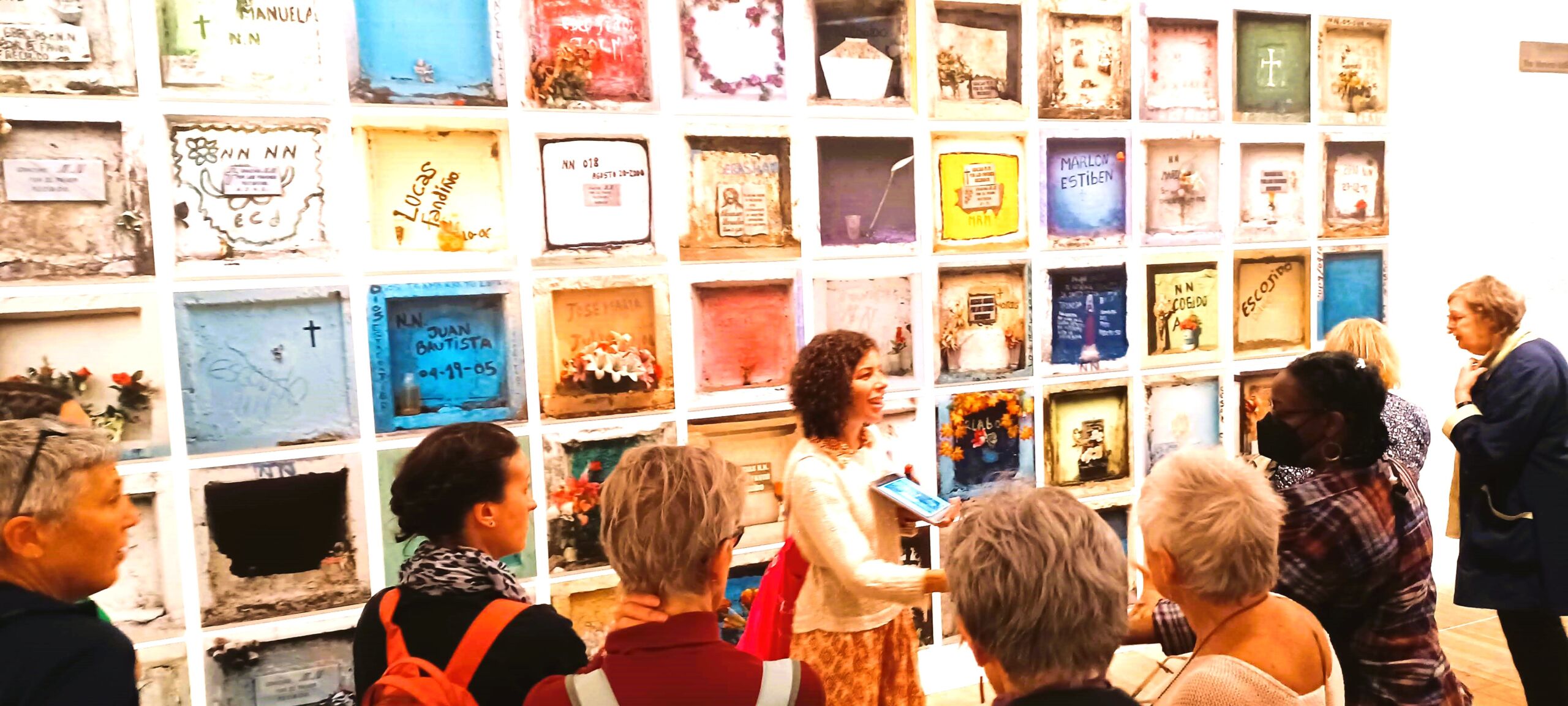 Tate Modern has chosen a Chilean artist (Cecilia Vicuña) for its prestigious Turbine Hall Hyundai Commission. Latin America is the "in thing" in the contemporary art scene.
In this guided art visit conducted in Spanish, we will explore artworks created by Argentinian, Guatemalan, Colombian, Chilean and Mexican artists in the last few years. Through examining the Latin American artistic landscape, we will delve into the region's problems and concerns, and the artists' approaches to them.
Put your Spanish into gear to discuss the most trending topics in the contemporary art scene, in a friendly and welcoming though thought-provoking visit.
Saturday 11th March at 11am
Be impressed by the movement that stirred up the art scene of late 19th century France and changed the course of painting forever. We will delve into the works of the most renowned painters in the history of Art: Monet, Renoir, Degas, Pissarro, Manet… In this visit, we will explore why Impressionism was considered outrageous in its time, and we will discuss why it is one of the most popular and well-known styles still today.
Painting in Spain blossomed during the 17th century, coinciding with the political rise of the Spanish Empire.
Join us at London's National Gallery to discover the powerful and uniquely Spanish painting styles of Velázquez, Zurbarán and Murillo.
In this guided art visit in Spanish, we will explore a fascinating period of Spanish history, flourishing in arts and literature.
This is a welcoming, fun, and friendly discussion-based tour in which you will put your Spanish into gear. You will not only learn about art, but you will also be encouraged to be critical and express your own opinions. Absolutely no knowledge of art is required, just an inquisitive mind and an interest to learn and exchange views.
The Middle Ages have traditionally been referred to as the Dark Ages, but was this really a dark period in Art History? Join us to shed some light on the Medieval Collections at the Victoria & Albert Museum in London. You will end the visit thinking of the Middle Ages as the Bright Ages.
Learn about life in the Middle Ages and find out why medieval people were not that different from us. Discover fascinating objects from around Europe, all while practising your Spanish. Explore the History and daily life in Europe from the early Middle ages to the early Renaissance. We will talk about everyday objects such as ivories, reliquaries, or Books of Hours, as well as precious treasures such as the Becket Casket and the Soissons Diptych.
According to museum researchers, the average visitor spends between 15 and 30 seconds in front of a work of art. In this visit, we will slow down and examine art beyond first impressions.
Peel off the layers of several works of art with us (form masterpieces to lesser-known paintings) and find out what to look for when analysing art: from iconography to pictorial space, from symbolism to composition, from political context to line and colour.
Learn how to read images, the rules of visual language, the vocabulary you may use to describe what they represent and how they make you feel. Identify and explain compositional rules, symbolism, and optical illusions. Think critically about the mindsets and beliefs of past societies. All whilst putting your Spanish into gear with a friendly group of people passionate about art.
Let's observe, ask questions and discuss together what lies below the surface.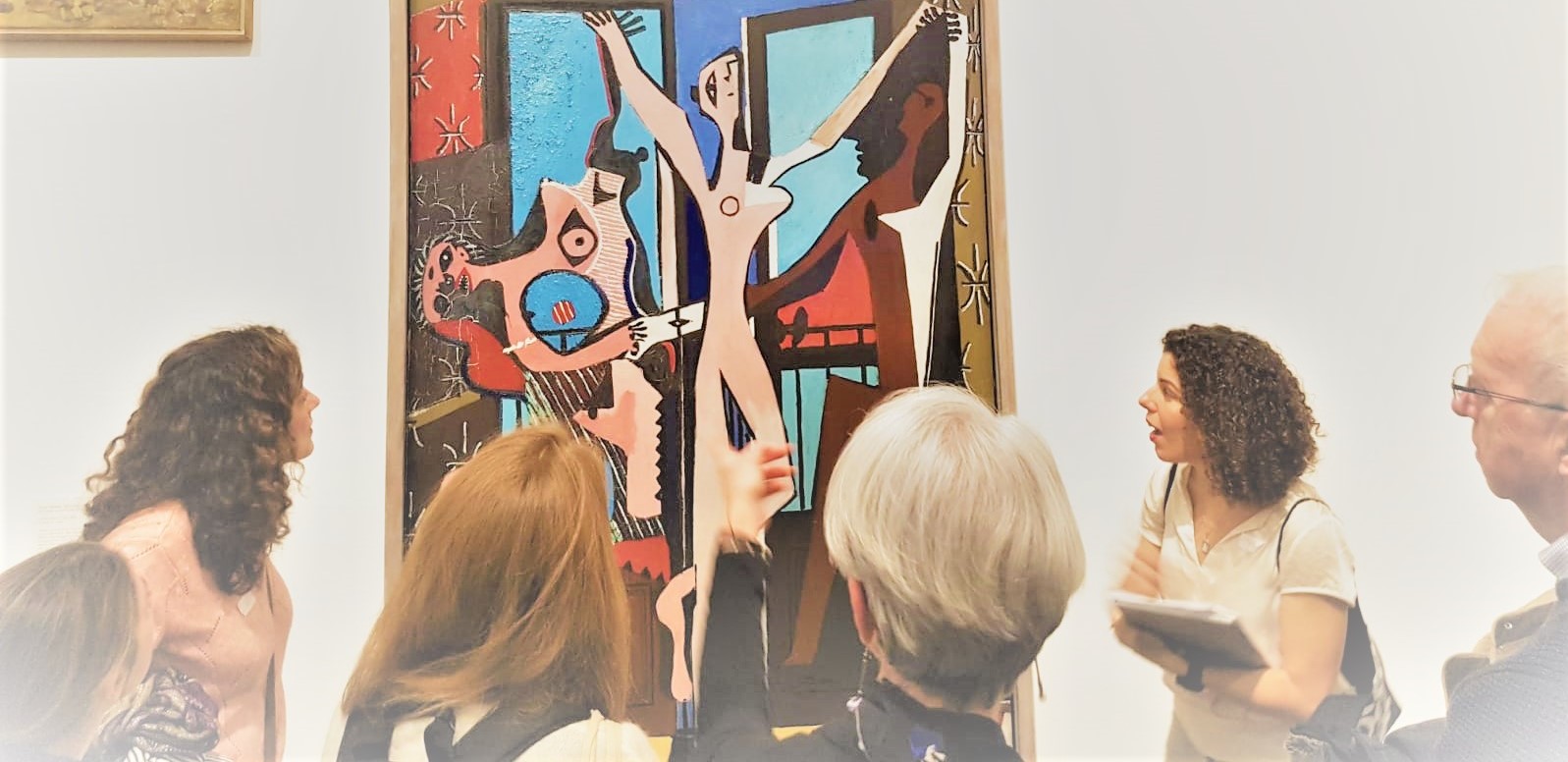 Discover the 20th-century Spanish masters at the Tate Modern: Picasso, Dalí and Miró. In this guided art visit in Spanish, we will explore the avant-gardes of the 20th century, especially Cubism and Surrealism and we will learn about the main Spanish artists who stood out in each tendency.
Find out about Picasso's, Dali's and Miro's artistic careers; uncover the hidden meaning of cryptic works of art; dissect the characteristics of the most famous art movements of the 20th century; and explore how these trends were influenced by their historical context and how they in turn influenced future generations.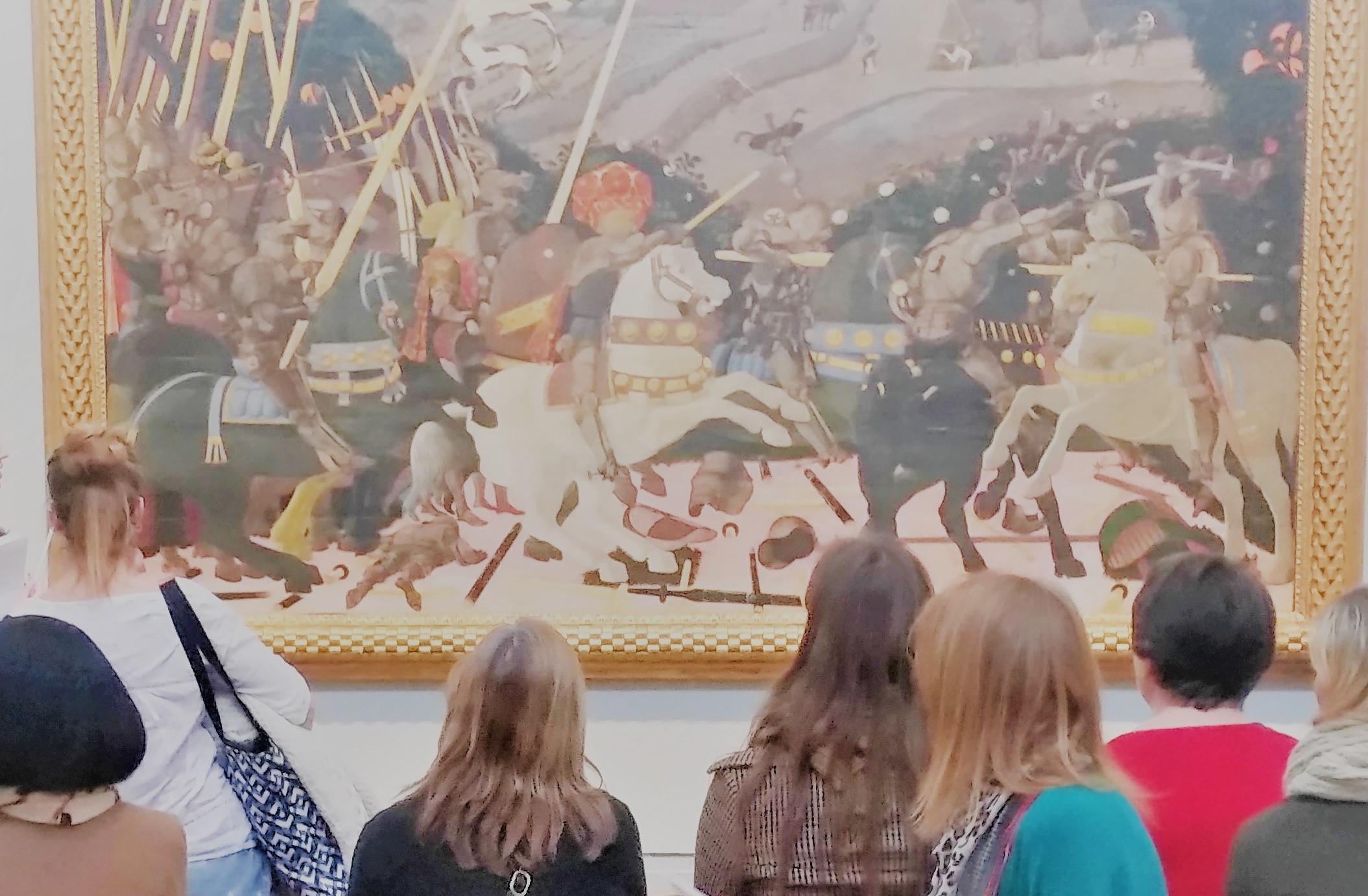 The Renaissance (rebirth in French) meant a revolution in the visual arts that changed our perception and shaped our western ways of seeing for centuries to come. Its influence is still strong today. Join us on a visit to the National Gallery to unveil the huge transformation that the Renaissance signified.
This guided Art visit in Spanish will take you on a journey from Italy to Northern Europe, to discover the masterpieces by Leonardo da Vinci, Raphael, Titian and Van Eyck. 
Be prepared to "sharpen your eye" and put your Spanish into gear
Unarguably the most important artists of the Spanish Golden Age, Velázquez is celebrated for taking painting out of its traditional confines. His innovative technique, loose brushstrokes, and treatment of light have even made some critics consider him an early precursor of Impressionism.
In this online workshop we will discuss the role of the artist in Spanish Golden Age, the historical context and its influence on Velázquez trajectory; we will analyse Velázquez's extraordinary style and some of his most acclaimed masterpieces; and of course, we will examine in detail his most intriguing work "Las Meninas".
Often considered the first truly modern artist, Goya was a shrewd observer of the uproarious events in the late 18th and early 19th century Spain. From his sly critique of the ruling class to his satirical view of the society around him, Goya leaves a testimony of his time.
His highly inventive work, his engravings' dreamlike subjects and grotesque imagery, and his witty social commentary presaged the works of Picasso and the Surrealism of Salvador Dali.
In this workshop we will not only discover Goya's fascinating art, but also the tumultuous political context of the Spain of his time.

PAYMENT METHODS & CANCELLATION POLICY
The art tours and workshops must be booked and paid in advance.

Sessions are held in small groups and tend to sell out. We advise early booking to avoid disappointment.

No refunds can be made for unattended sessions.