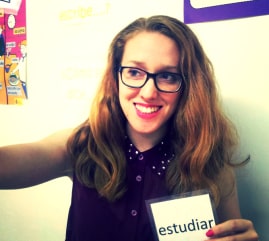 Ylenia
Hola, ¿que tal?
I am from the beautiful San Sebastian, a town in the North of Spain known for its amazing gastronomy.
I'm qualified to teach Spanish both by Instituto Cervantes (ELE) and by International House (CLTA). My 4 years experience teaching childen and adultshas helped me develop a sense of imagination and creativity for the lessons.
I enjoy teaching Spanish using a communicative approach to the language, creating opportunities for the students to speak from the very beginning. I also believe that what you learn while having fun is never forgotten, therefore I tend to use games and playful activities in my classes.
See you in the classroom soon! Hasta pronto!